C/2022 E3 (ZTF)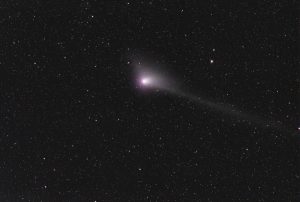 I was waiting for weeks to get a shot of this comet. Finally in december I didn't get my mono frames processed satisfactorily. Hence I decided to rewaken my EOS5DMkII at the next chance. This time I struggled with my backup set-up GP-D2, TeenAstro, Astroberry). After 4 hours of the frosty night I collected 50 x 1 minute at ISO 1600. After processing the the strange pink remains, while other photos show the pretty oxygen green. But anyway: this is my first comet photo showing gas tail and dust tail. Look here what pros show…
Some data in order to document my image train, basically for my own track record: Esprit ED100 with small Riccardi. Adaption "Version 2": Baader Protectice T-Ring, without any filter (!), TSFEK-RIC, Riccardi Adapter "part A" and "part B" .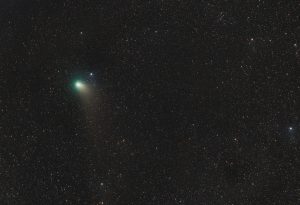 Before the comet gets lost in deep space again, I got a chance to catch this guy with a more modern equipment, but under poor conditions. The shot was done in Borgfeld as well. Done with an ASI 6200 MCpro, 32 x 1 minute at medium gain (MG) with clear glass filter. The chip distance was not finally correct in this set-up. For my own track record: UFC with an experimental TSFEK Adapter realizing 77,85 mm backfocus. The known optimum since Feb 8th is at 78,20 mm.
C/2020 F3 Neowise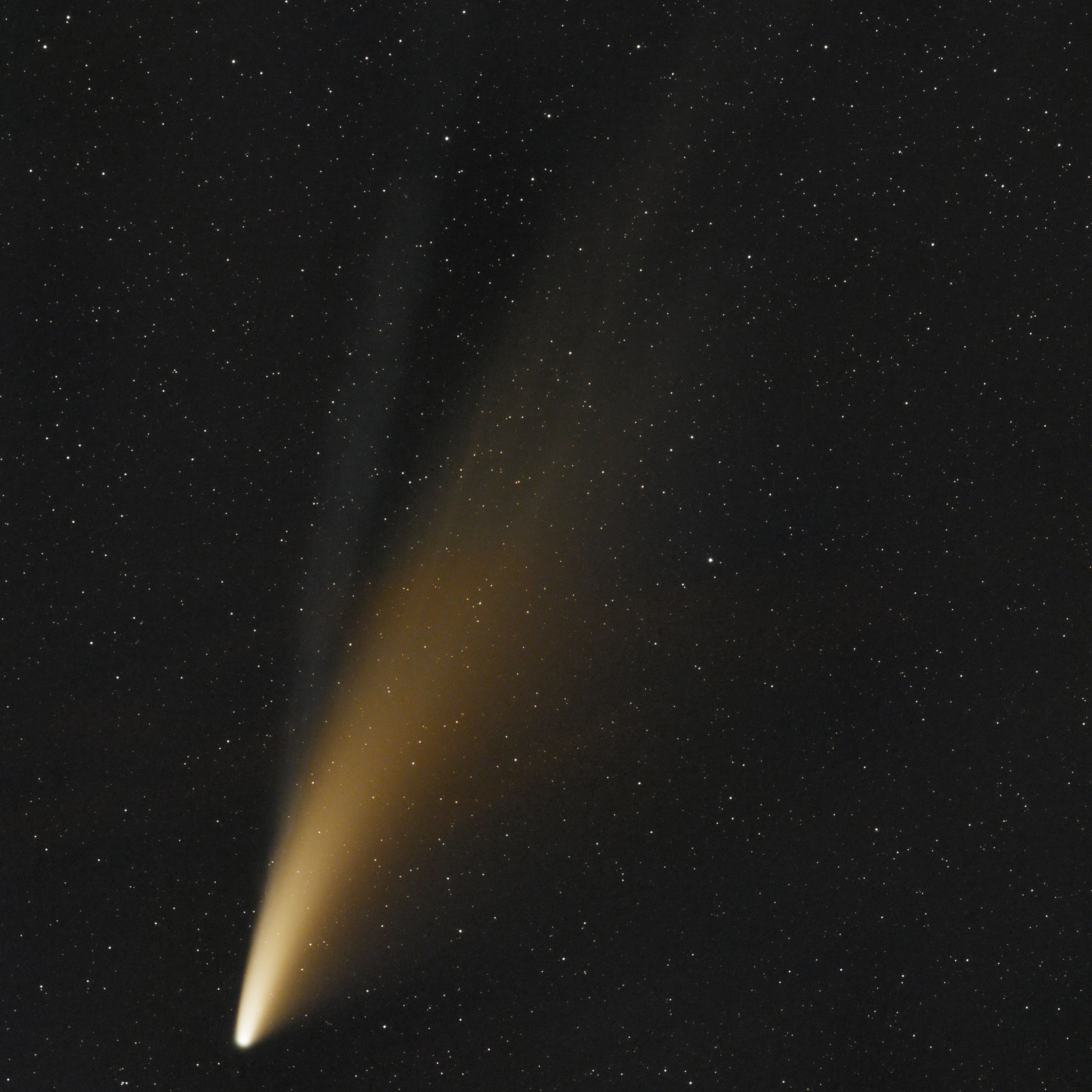 The surprise of 2020. Discovered in March and starting its career at southern skies this comet arrived at our northern hemisphere in July still quite bright. Here are my photos.
C/2019 Y4 Atlas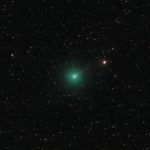 Ein Komet des Frühjahres 2020. Nachdem er plötzlich 5 Größenklassen heller erschien als vorhergesagt, war er der Hoffnungskomet für April 2020. Hier gibt es mehr Details.
21P/Giacobini-Zinner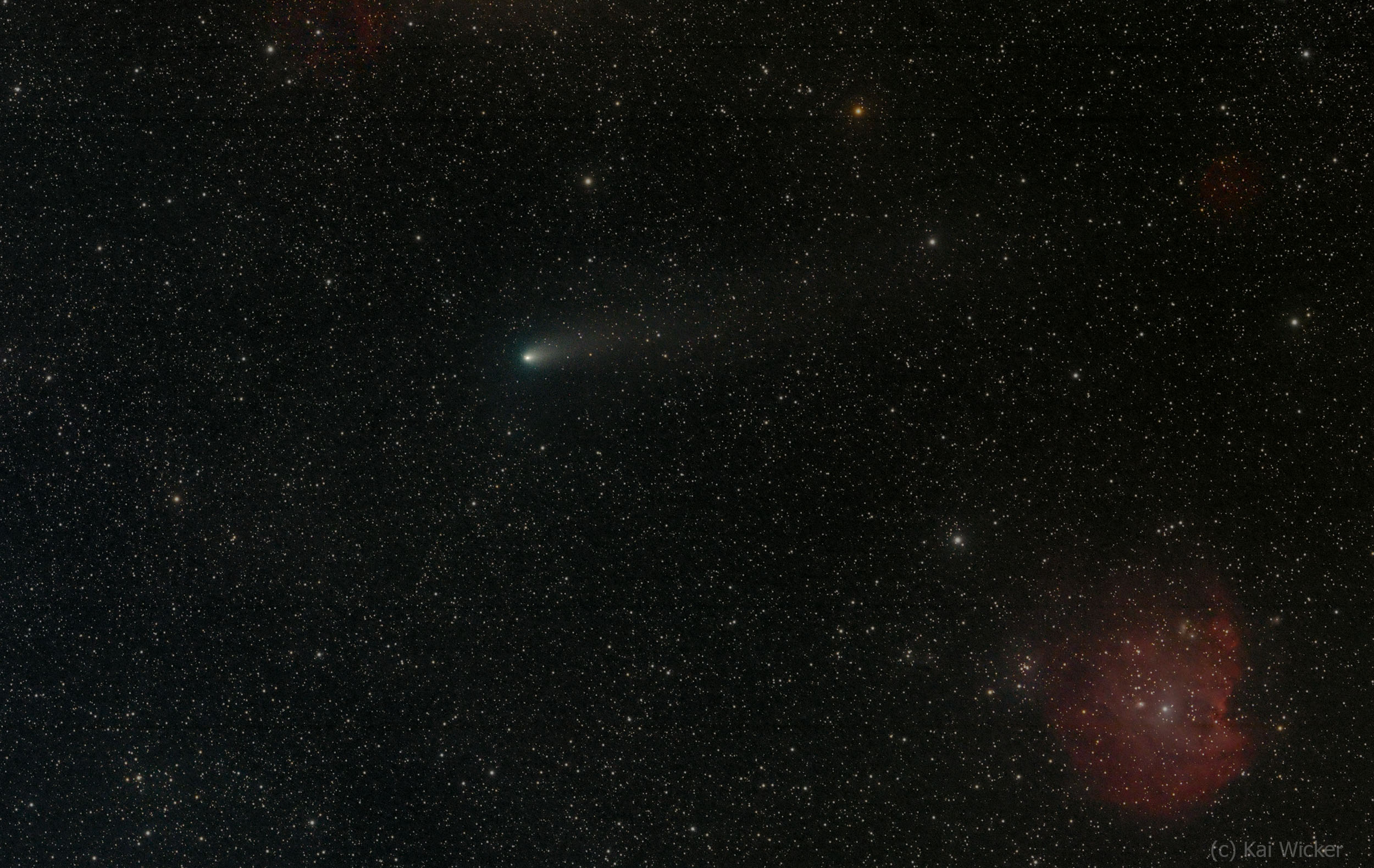 Ein recht heller Komet des Spätsommers 2018. Obwohl wir in diesem Jahr in Norddeutschland nicht über das Wetter klagen konnten, hatte ich es nie geschafft den Kometen bei ansprechendem Hintergrund anzutreffen. So musst letztlich die die Nacht des 17. September 2018 herhalten, leider waren die Bedingungen im Borgfelder Garten recht schlecht – und das lag nicht daran, dass ich gerade aus LaPalma zurückgekommen bin…
Belichtet wurde mit dem Esprit ED 100 und dem originalen Skywatcher Korrektor ohne Filter mit meiner EOS 5Da MkII. Alles aufgenommen mit SGP, bearbeitet mit PI und PS. Flats und Bias, keine Darks. Verwendet wurden 48 Belichtungen von 1 Minute im Zeitraumes 04:28 bis 05:56. Alles auf der Avalon Linar und Baader Hartholzstativ. Guiding auf Fixstern, 60/240mm Sucher mit ASI 290mini.
Das Bild zeigt den Kometen zwischen Affenkopfnebel und dem Quallennebel. Unten rechts NGC 2175 und oben links die Ausläufer von IC 443
41P/Tuttle-Giacobini-Kresak
Find here some data of 41P/Tuttle-Giacobini-Kresak caught 2017 at Breddorfer Moor. As mall video shows the movement of the comet during approx. 76 min.
C/2014 Jacques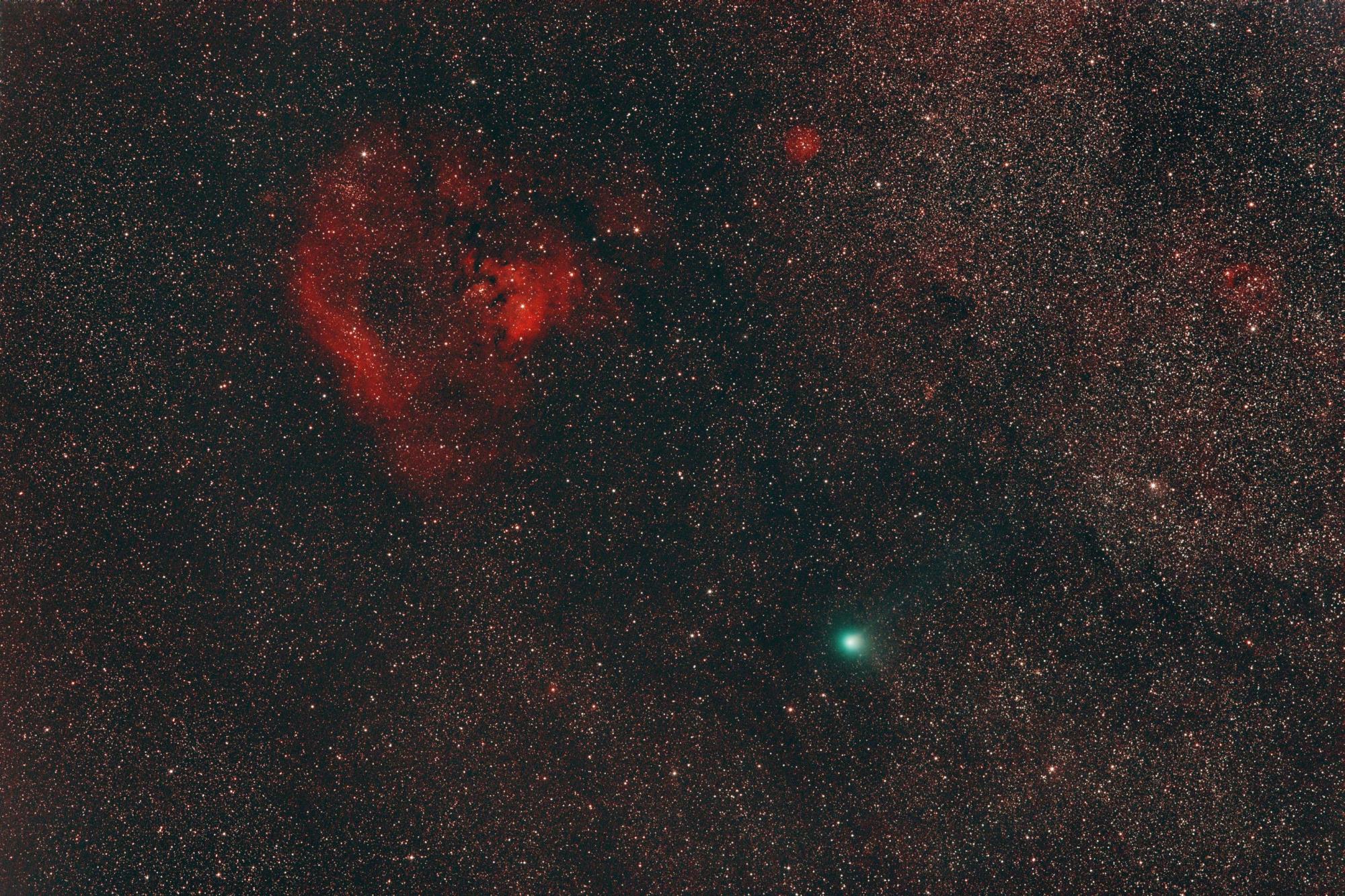 Aufgenommen am 25. August 2014. Canon EOS 5Da MkII mit Canon EF-L 200mm f/2.8 abgeblendet auf F/4.0; 13x240s bei 1600ASA; 6 Bias, 6 Darks, 8 Flats. Aufnahmezeitraum 0:28 bis 01:28 Uhr.
Preprocessing, Stacking und weitere Verarbeitung in PI. Zweiter Stack auf Komentenkern in PI. Zusammengesetzt und finale Bearbeitung in PS.
C/2013 R1 Lovejoy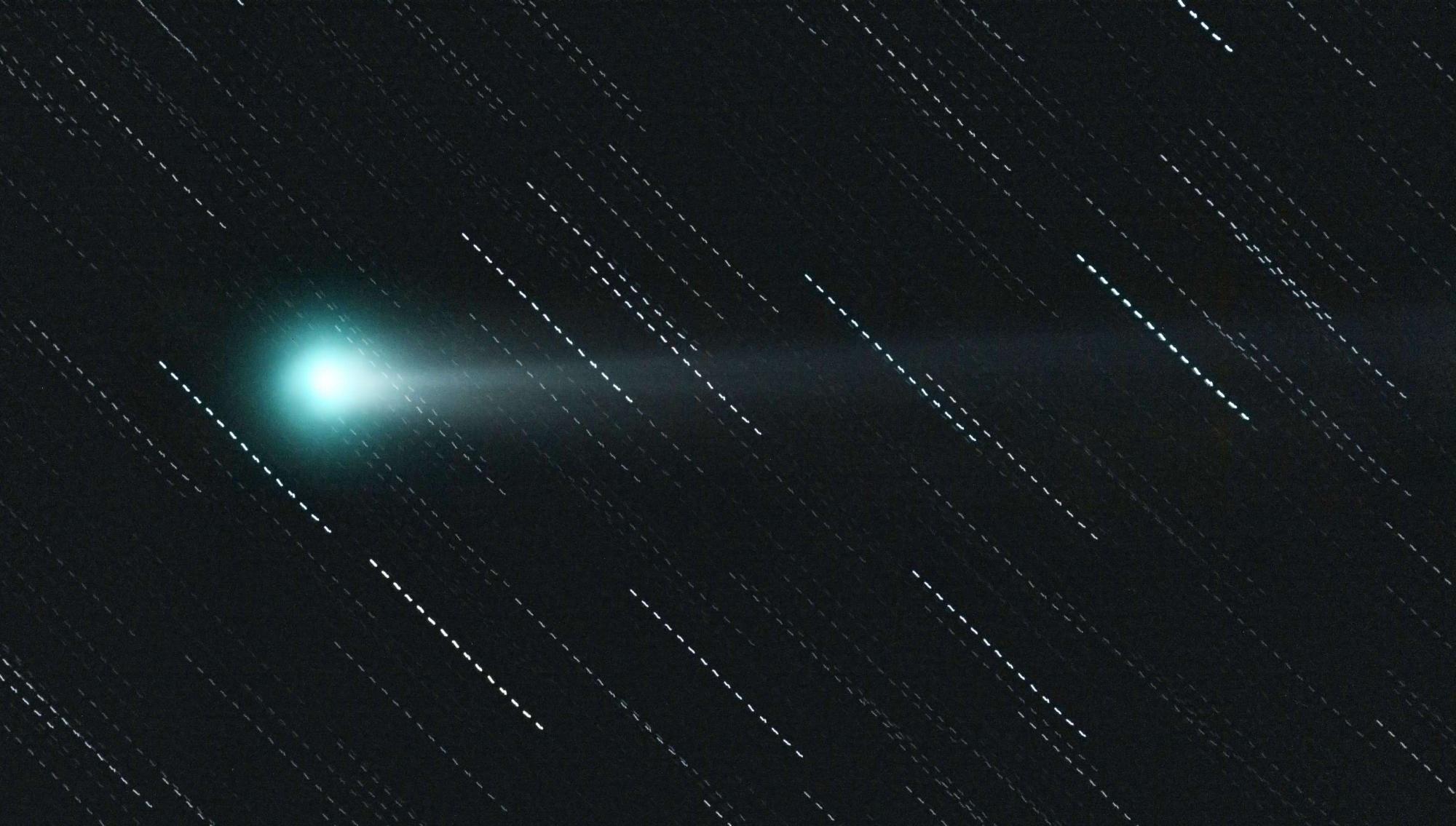 Aufgenommen am 26.11.2013 von 04:00 bis 6:27. TLAPO906, 2″ Flattener 119mm Abstand, Canon EOS350Da, fokussiert mit DSLR-Focus, Aufnahmesteuerung per APT-Tools. Sucherguiding per PHD Guiding mit Lodestar. GP-2 auf Baader Hartholzstativ. Belichtung 15x 400s, interner Dunkelbildabzug, 25 Flats, keine Offsets,  Summe: 100min.
Fitswork: Wandlung der Flats und Lights von CR2 nach FIT. Registrierung der Lights auf Komentenkern. DeepSkyStacker: Stacking ohne Verschiebung, Mittelwert. Fitswork: geebnet, 90° Drehung, Zeilen gleich hell, Grauwert festgelegt, Aufspaltung in L und RGB
Photoshop: L und RGB identisch: Tonwertkorrektur, Gradationskurve. RGB: Rauschen entfernt (Pixel interpolieren). L: stark entrauscht. L+RGB Verarbeitung. Stacking per DSS, Speicherung aller Daten als float32 FIT, RGB Composit mit Fitswork, Luminanz berechnet mit Maxim aus L+R+G+B. RGB-Bearbeitung mit Photoshop, geebnet mit Fitswork. L und RGB in Photoshop zusammengesetzt, entrauscht, Masken.