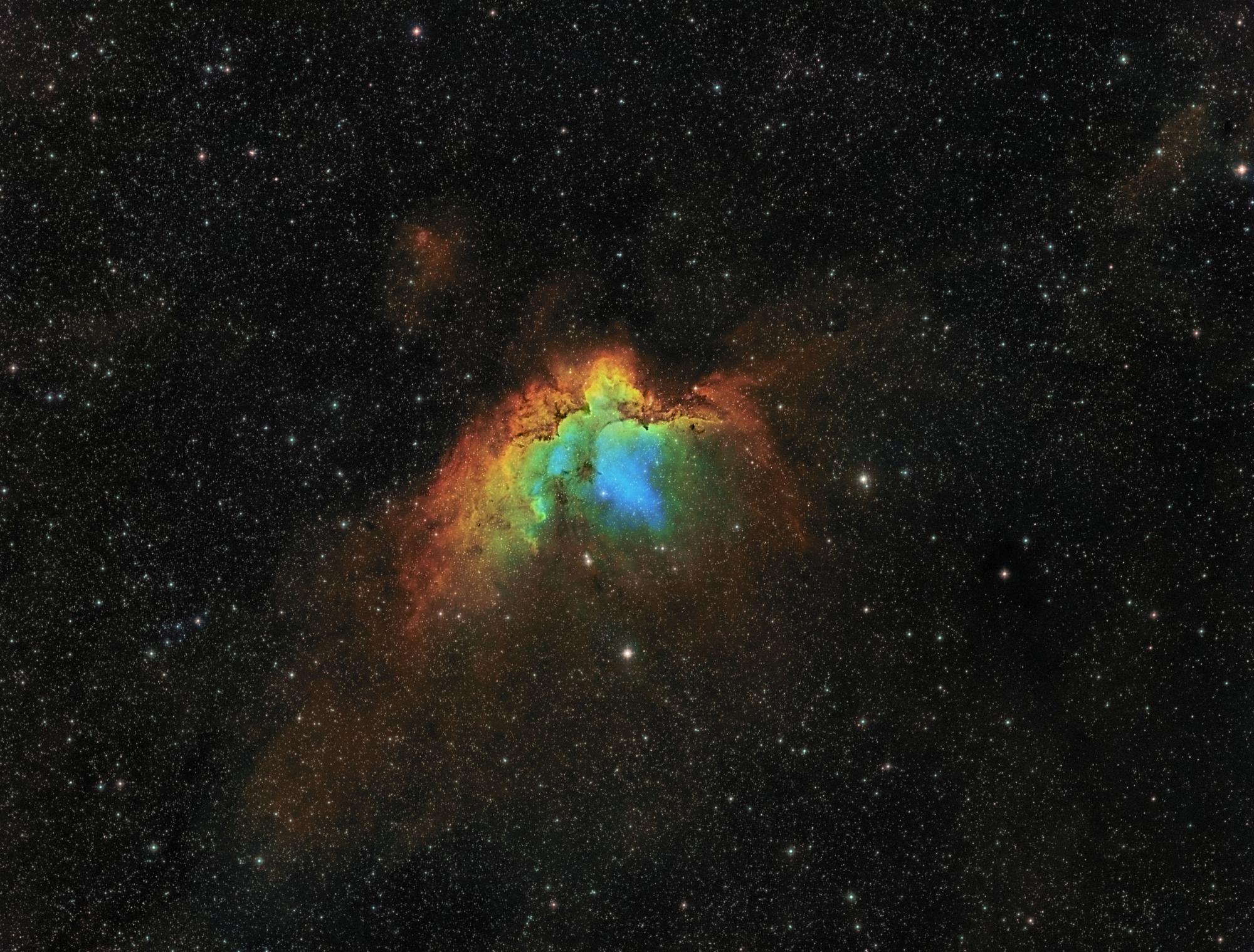 Aufnahmedaten

Object

Wizard Nebula, NGC 7380, 9./14./28.09./30.09.2015


Place

Borgfeld, Bremen, Germany

Scope

TS-Apo 90/600 with 2″ TS-Flattener, f/6.7

Camera

Atik 383L+, Baader SHO, 39 x 20min Ha, 19 x 20min O[III], 26 x 20min S[II], Sum: 28h

Mount

Avalon Linear

Guiding

Lodestar 60/240 Finderscope, PHD-Guiding

Processing

PI, PS

Remark

PA=96°.

NGC 7380 is an open cluster in Cepheus discovered by Caroline Herschel in 1787. The star cluster is embedded in a nebula, sometimes called the Wizard Nebula, which spans some 110 light-years. It is also known as 142 in the Sharpless catalog. The stars of NGC 7380 have emerged from this star forming region in the last 5 million years or so, making it a relatively young cluster.

Das war die letzte Aufnahmeserie auf der GP-D2. Unter anderem, weil ich hier so viele Frames aufgrund von Nachführfehlern verwerfen musste, habe ich mir danach die Avalon Linear zugelegt. TSAPO 90/600 auf GP-D2, Baader Hartholzstativ. Ich war mit der Erstbearbeitung aus dem Jahre 2015 nie zufrieden. Dementsprechend haben die Daten bei mir fast zwei Jahre auf dem Desktop gelegen. Im Januar 2017 habe ich mich neu drangesetzt und ein Ergebnis produziert, was ich erst mal so lassen werde.